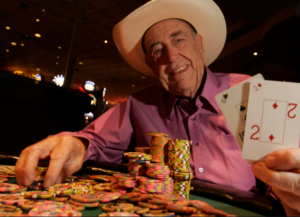 About Doyle "Texas Dolly" Brunson
Doyle Brunson was born in Longworth Texas on the 10 August 1933. He is a well-known and revered, retired professional US Poker player who was the first player to win $1million in a Poker Tournament. He played professionally for over 50 years and held the title for winning the World Series Poker main event twice. He is also an inductee in the Poker Hall of Fame and the author of several books on Poker.
Doyle Brunson's Poker Career
All online casino fans, including the casino pokies online crowd are all familiar with Doyle Bruno. Brunson started playing in illegal Poker games with a friend, Dwayne Hamilton. The two of them started travelling around Texas, Oklahoma and Louisiana playing in bigger games. The illegal games Brunson played in were usually run by criminals and members of organized crime.
After years on the road, Brunson finally settled in Las Vegas and became a regular player at the World Series of Poker and many other Poker events, earning him a total of ten bracelets. Brunson also authored Super/System and Super System 2 regarded as authoritative books on Poker.
The Doyle Brunson Hand
Poker players know there are many colourful names for different Poker Hands. Aces are nicknamed "bullets" and Kings "cowboys ". However, when a 10-2 hand is shown, players around the table are likely to refer to it as the Doyle Brunson Hand.
Doyle Bronson won both of the WSOP titles with this hand, and it is not even a good hand when playing Texas Hold 'em. It has almost zero potential value, even to a poker player of Brunson's stature yet he went on to win the WSOP. It is said to be the luckiest hand in Poker history.
Conclusion
Doyle Brunson is a a true legend and a man who has pushed the boundaries of chance when playing Poker.