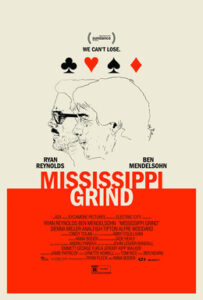 Ryan Reynolds and Ben Mendelsohn star in this gambling movie. It's about a gambling addict that is convinced his newfound friend, Reynolds is a good luck charm and takes him with him on a road trip to a high stakes poker game in New Orleans.
It's no ordinary road trip as the movie deals with human frailties, desires and behaviours and how they react and adjust in a vivid world.
Keeping the Cards Close
The story drifts southwards from Iowa to New Orleans and embraces the loneliness, debts, regrets, and lousy poker hands of these two unlikely friends who want to believe they are winners. Curtis (Ryan Reynolds) is described by Gerry (Ben Mendelsohn) as a "handsome leprechaun", and initially it would seem he has a likely shot at being a winner. Gerry, on the other hand, is a broke divorced real estate agent who owes money to a loan shark and many other people too. Furthermore, like most gamblers, he believes he's one lucky break away from turning it all around.
Curtis, a hedonistic gambling drifter, has decent judgement. He knows when to stop gambling and drinking. He has a real affection for Gerry and all he wants is for him to be happy. Gerry, however, is bad news, as he is destructive, passively aggressive, manipulative and unable to control his impulses. It's the combination of opposites on a quest to fix the unfixable using gambling as the remedy.
Conclusion
Mississippi Grind is about a man who not only gambles with his money but with what's left of his already ruined life. Moreover, risking everything he has for the sake of a long-shot fantasy that never comes and redeems him in the eyes of those who have written him off. It's a tale of many gamblers who keep hoping for that big win that never comes.