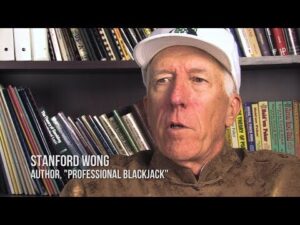 About Stanford Wong
John Ferguson, also known by his pen name Stanford Wong is known as the "guru" of Blackjack, and a member of the Blackjack Hall of Fame. Born in 1943 Wong started playing Blackjack in 1964 while teaching finance courses at San Francisco State University.
Not content with a life of teaching, he decided to pursue his gambling career. He published his first book in 1975 called Professional Blackjack. Wong also developed a computer programme initially for personal use called Blackjack Analyzer. However, it became one of the first commercially available Blackjack odds analyzing software programmes in the market.
Stanford Wong has also appeared on many televised Blackjack Tournaments as a contestant. Furthermore, he also owns a publishing house Pi Yee Press based in Las Vegas and has published books by other authors on Gambling.
Achievements
Wong started playing Blackjack in 1964 and in 1980 he made the term "wong" or "wonging" popular. This term has come to mean a specific advantage technique in Blackjack and involves watching a play of cards in a game without wagering your own money until the count becomes advantageous. Wonging is the reason many casinos have signs on some of their Blackjack Tables saying "No Mid Shoe Entry."
Wong has also acted as a consultant for Blackjack writers and researchers, and they include well-known aficionados on the game like Don Schlesinger and Ian Anderson. Wong also wrote a book called Wong on Dice which purported to reveal how to beat the odds on Craps through controlled dice throwing. He also has an official website Stanford Wongs BJ21 which has been around since 1997 and contains a subscribers-only area called Green Chip.
This Blackjack legend has dedicated his life to Blackjack. He has written many books on various casino games and his name Stanford, which is his alma mater name combined with Wong certainly creates the mystique of the Orient and adds to his allure.